How many times have you mentioned that you were nervous about a job interview or a presentation and your well-meaning friend says, "Just be yourself!" That's so sweet that they think highly enough of you to recommend that you be the person you are with them. But the advice doesn't work.
So thanks anyway. I can't be myself when I'm in front of a large audience. I can't be myself when I'm sitting across from someone who can control my future. And I can't be myself when I'm on a first date with someone adorable. So thanks for your excellent advice.
OMG, why can't I be myself in these high-stakes situations?
I love to solve mysteries for people. That's one of my favorite things. "Why can't I be myself when I am standing in front of an audience?" Hmm. Mystery. "Why can't I find anything to say when I'm on a first date. I just talked my best friend's ear off, not 20 minutes ago." Ooh! Another mystery! "Why do I draw a blank or talk so fast when I'm interviewing for a new job?" Mysteries abound!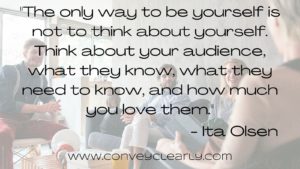 How to Nail Your Job Interview & Land Your Dream Job
Mystery solved
Your brain perceives high-stakes situations as a threat, and it puts your body into fight or flight. Your primitive brain shuts down your prefrontal cortex, closes up your throat, and gives you only two options: You can run or put up your dukes. Those are two options, unfortunately not doable in these situations.
More on why you get nervous when you talk.
(Speech therapist tip: Don't open up the toy cabinet for your 2-year-old and say, "have at it!" Take out the play-doh and the firetruck and ask him which one he wants. It keeps his brain organized and still allows him to feel in control. It's a win-win.)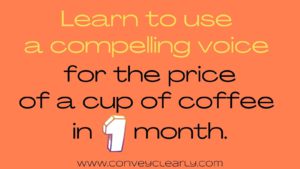 How to be yourself in high-stakes situations
We must combat fight-or-flight. Since human evolution takes millions of years, we don't have time to wait for our bodies to catch up. We have to take action now. 
Learn relaxation exercises. (Mine are the best.) You'll want to stop your shoulders from heading up to your ears. Release the tension in your face and mouth.
Use abdominal breathing at all times. Not just in yoga class. Abdominal breathing means your stomach goes out when you breathe in and in when you breathe out.
Open up your throat. Keep your throat wide open. There's a reason people say that someone is "choked up" or "feeling verklempt." They can't speak due to emotion. High emotion causes fight-or-flight, thereby closing up your throat. Ineffective in interviews, presentations, meetings, first dates, etc. By opening your throat you not only reclaim access to your pre-frontal cortex so you think straight but it makes your voice sound confident and authoritative.
Love your audience. We get nervous when we are worried about what other people think about us. "Do they think I'm dumb?!" "Am I a fraud?!" It honestly doesn't matter what they believe. And no, they don't think that! Be concerned only with providing them with the information 

you

 have that can help 

them

.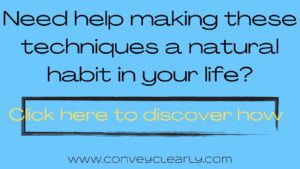 So the next time someone says, "Just be yourself!" you can solve mysteries for them. Explain to them about their primitive brain and prefrontal cortex. And if they have a 2-year-old, give them the toy trick. Tell them Ita Olsen told you. You're welcome.