Why do the words not come out as they sound in my head?
"I had it all figured out in my head. I knew exactly what I was going to say! Practiced it over and over in my head! But for some reason, it didn't come out anything like I'd practiced! Why can't I articulate my thoughts clearly?"
You're at a meeting, and you have a brilliant idea. You open your mouth, words come out, but you're looking at blank faces. Five minutes later, Daria says the same thing and gets all the credit!
Or: You're conveying your message, but it's coming out all Speedy Gonzalez or too high pitched. It's not perceived as credible, and people have a hard time processing what you're saying. That's not going to get you where you need to go!
You have crystallized ideas in your mind, but getting them out is challenging. How can this be?!

Scroll down for the How if you don't want to wait through the why 🙂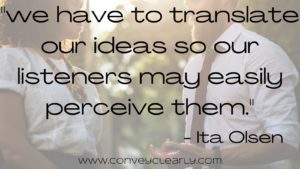 Why do your words not come out as they sound in your head?
Mystery solved.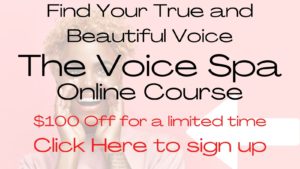 We can have ideas crystalized in our minds; however, conveying them to others involves translation. We have to translate our ideas so our listeners may easily perceive them. Remember: your thoughts are well-cemented in your mind because of all of the experiences you've had and the pictures you see. You could be trying to explain yourself to your identical twin with whom you've had the same experiences for your whole life, and you still may have a misunderstanding.
Now imagine you're the CTO explaining something to the CEO. Identical twins? Very far from it. Almost none of the same experiences and no same "mind images" or even knowledge. You depend on each other with your different proficiency bases.
(When I talk about pictures in our minds, I mean that when we learn the names of objects or concepts throughout our lives, we draw pictures in our minds. A simple example is if I grew up with a German Shephard and you grew up with a Shihtzoh. Our mind's images of "dogs" would be different. It's science.)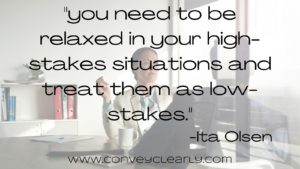 Here's how to articulate your thoughts into spoken words.