My clients go on to do awesome things! Many of my clients are asked to be the voice-over for their firms' video marketing.
Even though they're marketers & CEOs & lawyers, they end up doing commercials! It's crazy amazing. You're not stuck with the voice you hear on the recorder! The way your voice sounds impacts the way people perceive you. Your voice can negatively impact just how well people understand you.
4 Definitive Techniques to Making Small Talk
Voice Improvement is Easy and Healthy
Just a few easy changes can give you a powerful, magnetic & persuasive voice.
Here's an email I just received from a fantastic client:
I just finished a job as an English emcee/interpreter for the grand opening of National Taichung Theater, AND they asked me to record the English pre-show announcements (turn off your devices and whatnot) for the whole theater. People kept saying how wonderful I sounded. And I have YOU to thank for all of this!!
The Pavlov's dog exercises are incredible for jitters; I could even do the jaw tensing on stage with the camera on me during commercial breaks. Oh yeah, this was on live television all over Taiwan.
Love to see that when I open my inbox!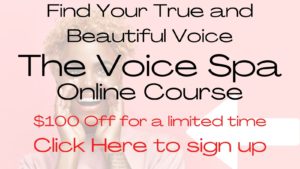 Sound Amazing & Be Confident
We get rid of the tension in your throat & give you a gorgeous voice. It's your true voice. Most people get it done in about 4 sessions! 🙂 As a result, you'll be more confident to go out & do the things that scare you.
We teach you to be calm cool & collected even when you're on national television 🙂
Voice Improvement
Here's how it goes: You click the above link. We set you up for a consultation with me. You & I meet on Skype or Zoom. I listen to you, beat you up (with lots of love), and tell you what it's going to take to achieve your goals. The results? You as a powerful, magnetic & persuasive communicator in all areas of your life!