We are all in the business of getting people to view us as intelligent and capable and to do what we tell them to do. (Buy my widget! Hire me! Like my ideas!)
If you want people to process your message and do what you tell them to do, why would you distract them with vocal fry? If all anyone says about you, after you speak is: I can't stand the glottal fry, then they
missed your message
. And won't follow your call to action.
If you listen to yourself on a recording app & you hear glottal fry, it's time to make improvements. The CEO isn't using glottal fry & neither should you.
You just want to stop using glottal fry, and all anyone can talk about is a low register.
A relaxed, non-glottal fry voice is associated with confidence. And it's something you can achieve. A confident voice makes people relax & trust you. A voice riddled with glottal fry not only makes you hard to follow, but it makes it hard for people to trust you.
If you don't need people to trust you, carry on! As you were! But if you need to get ahead at work then read on.
So not only can you eliminate the use of vocal fry in your voice, but you can end up with a voice that's dripping with poise and presence.
Smart people improve themselves.
You're reading this article, so you're obviously brilliant and like to continue to improve yourself to gain success in your career and with your relationships.
You're not the person who says, "Like, that's just how I talk, so take it or leave it." (Read in a strong vocal fry voice, hanging on to the last word for a few seconds. Think Kim Kardashian.)
We aren't victims here. There's nothing that you're good at that you haven't worked on. Why should communication be any different? It's the one thing that helps you achieve success, more than almost anything else.
Those folks that you know (or know of) who have full, resonant, magnetic voices and an authoritative way about them? They've worked on their voice and speech. Most of them aren't telling you about it. They're getting ahead in the world and they don't want to give away their secret sauce.
We can debate all day about how annoying glottal fry is, but that's a waste of time.
Nearly
everything people tell you about glottal fry is wrong. And at least unhelpful. The big word on the street is that vocal fry is your lowest register–that it's your lowest pitch. That's untrue. We cannot equate a low pitch with vocal fry.
And you
can
have a full, relaxed pitch without using vocal fry.
Don't waste your time.
If you're serious about having a compelling, magnetic voice that gets you to the top of your career ladder, take The Voice Spa video course right now!
You have an accountant do your taxes, right? You have an IT person, a lawyer, a dentist, a hairdresser, heck, you may even have a golf pro! Because if it's not in your wheelhouse, you hire someone who has it as their wheelhouse. When it comes to matters of communication, that person is me. 🙂
But if you don't want to treat yourself and try to go it alone, carry on reading.
How to stop using glottal fry
Relax your throat & larynx.
 
Use sufficient airflow from the beginning to the end of your utterance.
 

Shorten your statements into chunks.
I'll give you specific details for each step further along in this article. Also, check out the video below.
Vocal fry comes from tension in your throat and not using enough air.

That's why at the end of your utterances, as you've used the last bit of air, vocal fry happens more frequently, even to people who don't typically use glottal fry.
If you're listening to yourself on the recorder & you're hearing glottal fry throughout your speech, it's time to get started making improvements.
I'm here for you, whatever way you want to do it! 🙂
How to Be a Great Conversationalist, Even if You're an Introvert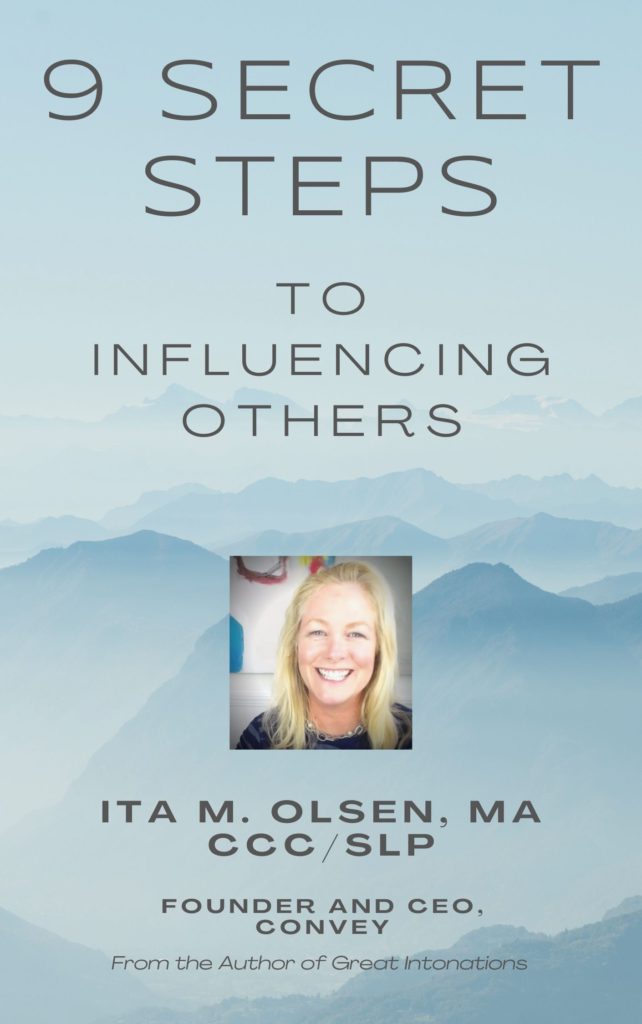 Relax & open up your vocal mechanism.
Glottal fry happens when you repeatedly slam your vocal cords together. It sounds like popping. Now get this, we don't need to slam our vocal folds (fancy Speech Pathology talk) together. In fact, it's discouraged. We don't use our vocal cords for every sound either.
So you want to make sure that you're vocal mechanism is relaxed and open.
Use sufficient air from the beginning to the end of your utterance.
Speech is air molecules vibrating. The more air you use, the clearer and more compelling you'll sound.
Also, you'll want to make sure that you're not using shallow breathing. The air should come from the bottom of your lungs.  It's called abdominal breathing and it helps you remain relaxed and helps you use a full, resonant voice. You know, the kind people with executive presence use?
Shorten your statements into chunks
You don't have to get your whole, carefully constructed, highly informative sentence out in one breath! Separate your sentence into clauses or phrases, being sure not to separate in between words that have to stay together.
(If you started The Voice Spa or hired me to help you, you'd have this done already :))
Ok, pretend this is your sentence: I'm the Director of Operations at JPMorgan Chase. You're not going to want to stop after "at." The "at" has to be glued to JPMChase. You'll want to pause after "operations."
Chunking your speech gives you a chance to take another breath and makes it easier for your listener to process the information.
Yes, you'll often see glottal fry with upspeak.
You know what upspeak is, right? It's when you go up in pitch at the end of your statements—essentially turning them into a question. The problem with upspeak is that people's brains are busy trying to figure out if the answer is yes or no and not able to process your message.